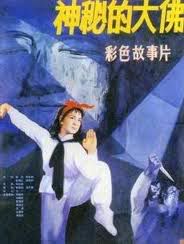 Mysterious Buddha (神秘的大佛)
Dir: Huaxun Zhang
Cast: Xiaoqing Liu, Cunzhuang Ge, Gengchen Jiang, Zongxiang Guan, Shun Feng
Plot: It revolves around the story of a conspiracy to steal an ancient Buddhist treasure, and the strange figures surrounding this mysterious object
Year: 1980
Country: Mainland China
Notes
: The movie is available on dvd in Mainland China by Gzbeauty (with english subtitles!).As it is stated on the back cover of the dvd, this is the first action movie to be shot in mainland China since the beginning of the reform and opening policy. The director kept directing action/martial arts movie within China, movies such as The Swordswoman in White (白衣侠女)(1992)(you can see the poster in our memorabilia's post),Sins in the Wutai Mountains (五台山奇情)(1989) and Zhu jian (铸剑)(1994). Xiaoqing Liu (the actress who played the heroine here) acted in the famous The Burning of Yuan Ming Yuan (火烧圆明园)(1983) and in others dramas.
Personal opinion: Although it is stated as the first action movie, the martial arts scenes are just a few, and especialy at the end of the flick. It's more a thriller than an action movie, most of the time there are just dialogues. As far as the martial arts are concered, we have some good stuff here but also some really dull ones. Wires are used for some jumps, but most of the time the action is slow paced (as in some old Shaw Brothers movies) and pretty simple (you can check some on the trailer we made). One of the best thing in the movie is the location, being filmed in Leshan (Sichuan Province) the movie shows breathtaking landscapes and,of course, the famous giant buddha.
Anyway, the flick itself is not really a masterpiece for martial arts fans, but for the chinese cinema is surely an interesting starting point (we talk about the cinema after mao's death) that brought us more and more worthy movies (The Shaolin Temple anyone?).
Some snapshots (from the original dvd):